Make Our
Fast & Simple
Recipes
Today!
Make food that
rivals take-out in
your own kitchen!
Delicious Recipes to Cook at Home
Our expanding collection of restaurant style meals to cook at home to impress yourself AND your family!
That Bread Baking Is So Hot Right Now! Have you ever noticed that every loaf of Artisan Rye Bread is like an individual work of art? There's something very special about them. Each as individual as a snowflake but far tastier! The early morning hours are occupied with...
Our Japanese Yakitori Chicken recipe gives you a traditional street food experience in your own home! Japanese Yakitori-ya are small take out food shops which specialize in yakitori chicken. People buy these portable snacks on sticks to eat them on the run or take...
Chinese Kung Pao chicken is an ever-popular Chinese dish. One of those which leaves your mouth tingling with delight all the way to dessert. Because Chinese Kung Pao Chicken has a broad combination of taste and textures it's no surprise it's a world favorite. The use...
The Chicken Recipe That Will Stop You In Your Tracks! Our simple Korean Myeongdong Chicken drummette recipe is one of the most moreish chicken on a bone recipes around! We call it Korean Myeongdong Chicken. Myeongdong is a luxury shopping area in Seoul, Korea with...
flavour and style for the samurai warrior within us all This Japanese Chicken Samurai burger is an adventure into Japanese food art. It also makes for an impressive departure from every-day cooking. We're not the only ones who think so though. This recipe and...
One Of The Most Popular Chinese Beef Dishes You Can Find! Chinese Crispy Chilli Beef is a classic Chinese restaurant favorite that you can cook at home! Why Go Out For Dinner When You Can Cook Like This At Home! What a total classic Chinese meal. We could eat this...
Japanese Tempura Prawn Noodles, has a delicious combination of lightly battered and fried tempura prawns. It's also got a collection of wonderful Japanese ingredients to put a smile on your face. While tempura prawns are the headline act, it is not possible to...
The Traditional Chinese One-Pot Dinner Chinese Claypot Chicken is a Super Simple One-Pot Dinner for One. Enjoy The Wonderful Aromas Found in Traditional Chinese Street Food From Your Own Kitchen! You will find claypots in South-Eastern China and Hong Kong. But as well...
Taste the Streets Of Thailand In Less Than 30 Minutes! Thailand has a unique and wonderful range of food known loved the world over. Our Thai Chicken Broth celebrates all the amazing aromatic flavors we enjoy in Thai cooking. It's super simple to make and ready in...
Say good morning to this Delicious Breakfast Calzone! It's time to broaden your horizon by starting to think of the humble clone in a completely new way. Move over Bacon & Eggs! There's a new Sheriff in town, and its name is the Delicious Breakfast Calzone. The...
These Fetta Stuffed Lamb Burgers are unmistakably Greek, yet could fit in anywhere! Being so totally jam-packed with feta and semi sun-dried tomatoes, you can almost hear Nana Mouskouri singing in the background. Make no mistake, these things are big, fat, Greek and...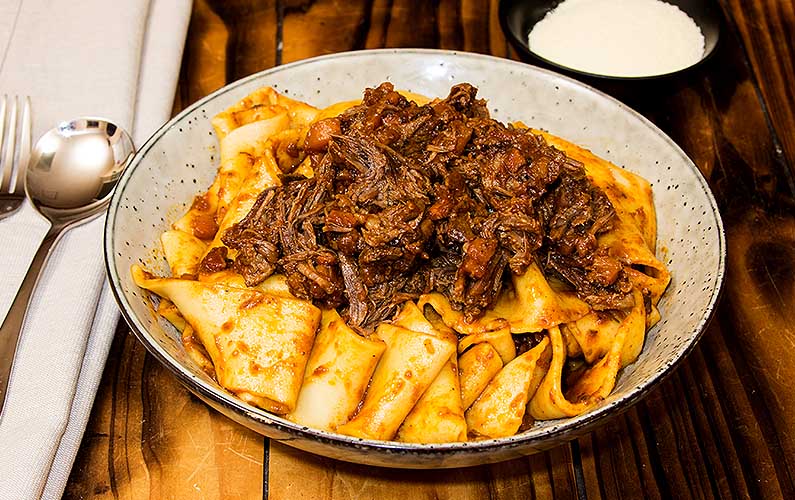 Cook this Beef Cheek Ragu. This wonderful bowl of carbs and super tender beef is guaranteed to delight the whole family. It's a slow-cook recipe, so you will need to put a little time aside to cook it. A side benefit is that the house fills with wonderful aromas while...
Beef Dukkah Wrap is here, so move over souvlaki, there's a new wrap in town! Let's be honest, souvlaki and its delicious meat from a spit is something of a delight. But sometimes it's inconvenient to set up a spit for just a few people. So what we have here is a way...
Make yourself luxurious and delicious Poached Egg Linguini. Pasta and runny egg makes for a very happy plate and a satisfied stomach. Why Choose This Pasta For Poached Egg Linguini? Tomato and meat-based dishes suit spaghetti well. Linguini on the other hand, is...
The ability to use salt effectively while cooking can make or break a meal! I've seen Masterchef contestants get booted off the show because they've under seasoned, that's why we have compiled these Three Amazing Salt Facts to Improve Your Cooking Salt is a...
The Super Light Fish Burger is the lighter way to enjoy a lunch time burger! We made this Super Light Fish Burger for those who want to try something a bit lighter than a regular burger. Generally burgers are related to beef and fish is not often part of the secret...
Authentic Taste is Just the Beginning With This Mexican Jalapeno Burger mmm it's pronounced; hal-apeeno burr-gerr, or Mexican Jalapeno Burger as we call it. Just Roll With It! There's a certain hierarchy in burger manufacture, you need to start telling the story with...
volume 5 cookbook
is now available
Filled with simple to cook
restaurant style meals
to enjoy at home!